Air Conditioning system suppliers, installers and servicing engineers, from our modern Pride Park offices we work for small, medium and large commercial and industrial customers throughout Derbyshire.

We supply and install new air conditioning units, and repair, service and complete maintenance to existing equipment for local schools, shops, offices, server rooms, health surgeries and pub/restaurants/clubs.
Highlights, Specialties & Features
Supply & Installation of Budget, Mid-range and Premium Air Conditioning System
Access to UK based spare parts for all major air conditioning brands
24/7 service to fit around your operations
Professional Associations & Certifications
Air Conditioning & Heat Pump Institute
REFCOM
Serviced Areas
Derby, Alfreton, Chesterfield
Contact Details
Products & Services
Supply of Energy Efficient Air Conditioning Systems
We supply all major brands including Mitsubishi Electric, Fujitsu, LG Air Conditioning, Mitsubishi Heavy Industries, Hitachi, Toshiba and Panasonic Air Conditioning.
---
Air Conditioning Installations
Air Conditioning Service & Installations Derby install all major economy and premium air conditioning brands, typical installations include fitting AC systems into offices, shops, meeting rooms, gyms, schools/classrooms, computer suites, server rooms and restaurants.
---
24/7 Air Conditioning Service
Whether you need your air conditioning system servicing, decommissioning, modifying or reinstalling in a different location, Air Conditioning Service & Installations Derby's have in-house air conditioning engineers to complete the work.
---
Repair of All Makes and Models of Air Conditioning
Being specialist air conditioning service engineers, not a general facilities maintenance company, Air Conditioning Service & Installations Derby can repair, service and re-commission any make, type and size of air conditioning system.
Social Activity
Control Hitachi air conditioning & heat pumps from anywhere with any smartphone! Visit us at https://t.co/glzPR19Z9G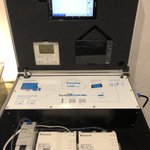 #Daikin intelligent controller training unit #airconditioninginderby #derbyairconditioning https://t.co/A0PSnE51xr
Attending the #daikinairconditioning split and multi systems training course this morning at the Hilton Nottingham https://t.co/6xloSqznzT
Nearest Businesses